Yosh. Big Bang is coming to Malaysia~!! Are you guys ready? I'm not. Hahahhaa..
So, the concert akan berlangsung pada 27 Oktober 2012 di Stadium Merdeka. Wahh.. Sehari selepas Raya Haji. Confirm ada yang tak beraya ni semata-mata nak tengok Big Bang. Lokasinya pulak Stadium Merdeka. Aku sampai ke hari ni tertanya-tanya apa jadi dengan Stadium Putra. Memang betul under construction ke? Kalau tak, kenapa tak buat je kat Stadium Putra tu? Stadium Merdeka ni macam tak sesuai lah pulak sebab open stadium.
Seating layout and pricing dah keluar. Tiket mula dijual pada 28 Julai di Farenheit88 bermula dari 10.30 pagi hingga 6 petang. For more details sila pergi ke
Facebook RITS
. Terbeliak mata tengok harga tiket. Tapi kalau dah minat tu, belasah je beli kan? Nasib baik aku kureng sikit Big Bang ni. Jimat duit aku. :P Konsert yang ni aku terpaksa let go. Projek-projek aku yang akan datang ni banyak nak pakai duit. So, siapa-siapa yang pergi, kirim salam je lah ekk kat Big Bang. Sobss..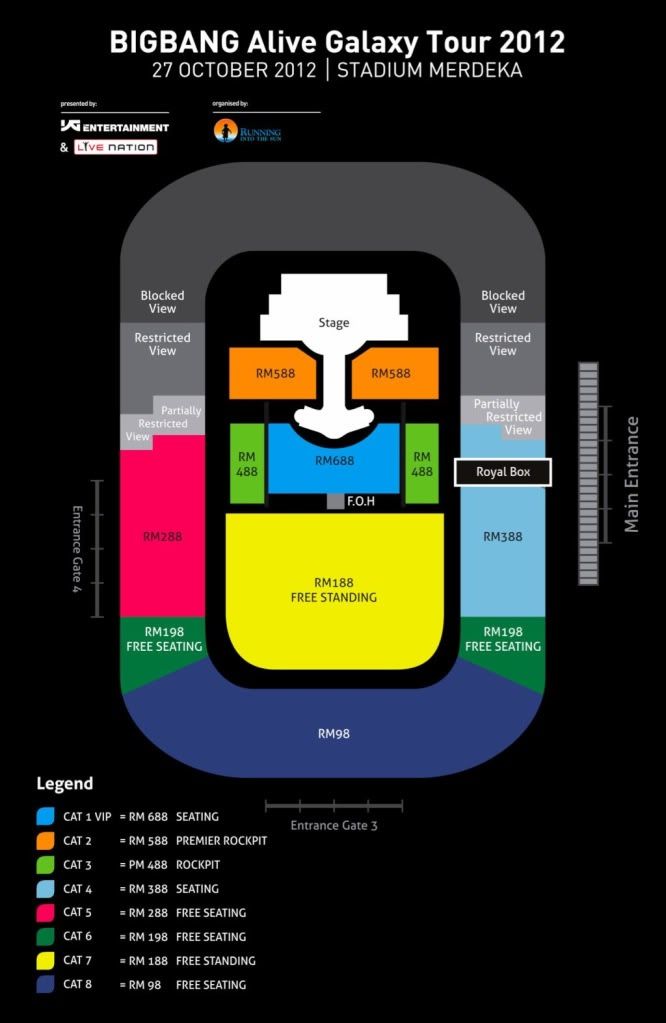 Bila pikir-pikir aku rasa mahal jugak lah harga tiket ni. Sebabnya, satu buat kat luar. Kalau terhujan ke ter apa ke susah lah kan. Mau lencun kat stadium tu. Haaa.. Mula lah tu pikir yang bukan-bukan nampak T.O.P lencun atas stage. Isk isk isk.. Yang keduanya, bila open stadium macam ni mesti sound system tak best. Kalau dalam stadium tertutup, boleh dengar echo, mana-mana bunyi tak sedap boleh diserap. Tapi kalau open macam ni macam mana ekk?? Bunyi-bunyi terus naik ke langit. Hahahaha.. Tak tau aku nak cakap macam mana.
So, ada yang dah aim nak duduk kat mana? Time beli tiket nanti jangan laah pulak gaduh-gaduh ye. ^_____^