Sunday, 20th November 2011
Setelah insiden malam tadi dan pagi tadi yang tak dapat dilupakan sampai bila-bila, kami terbongkang tak sedarkan diri. Memang kerja gila betul. Aku sedar pun sebab Aida dah bangun tengok TV. Dengan mamai-mamai aku tanya pukul berapa dah ni. Bila dia sebut je pukul 12 tengahari, terus melompat aku terjun dari katil. Demmitt~!! Kesiangan aku ni. Huhuhuh..

Kalau nak ikutkan itinerary yang aku buat sampai nak pecah kepala tu, pagi ni nak bersuka ria kat Yeouido. Hampeh dot com dot my. Bersuka ria atas katil buat kuak lentang. Jadinya, tak nak buang masa, bersiap seadanya dan terus ke Myeongdong. Kelaparan. Harap-harap ada lah benda untuk dilantak kat sana.

We ended up in this restaurant. Seriously aku tak ingat nama restoran ni apa. Tapi dekat-dekat dengan Uniqlo and SPAO tu. We had Haemultang. Yeay!!


Side dishes..
Ni namanya Seafood Pancake.. Haemul Pajeon kot nama dia..
Haemultang..
Nyam nyam nyam..
Burrpp.. Alhamdulillah..
Selesai makan. The price is, ermm.. Lupa dah aku. Nanti aku korek buku nota aku. Ada tu aku conteng kat mana-mana. Nanti dah jumpa, aku update kat sini.
Dah pukul 2 lebih. Seterusnya, kami menuju ke Olympic Park untuk aktiviti meroyan fasa kedua pulak. Kekekeke.. Aida, Fieza and K Yati stay back and jalan-jalan kat Myeongdong tu. Pandai-pandai lah diorang.
Lepas habis meroyan, kami pergi ke Yeouido. Saja gatal-gatal pergi Handel & Gretel. Pada siapa tak tau, Handel & Gretel ni coffee shop run by Yesung's family. Yesung SuJu ler. Kot-kot boleh jumpa kaum kerabat Yesung lah kan. Kekeke.. Bersemangat waja dah ni. Sekali sampai sana, tutup daaa. Hahaha.. Buang karan lah sesangat.
Malam masih awal. Jadinya kami terus ke Dongdaemun. Called the ladies kat hostel untuk join kami di sana. Meriah sungguh Dongdaemun malam-malam ni. Masih ramai lagi orang yang lalu lalang. Kedai pun masih bukak. Aktiviti shopping-shopping ni memang tengah giat lah dijalankan. Aku ni bajet tak besar. Cuci-cuci mata je lah tengok apa yang diniagakan.
We went up to Migliore. On the top floor ada kedai-kedai jual souvenirs. Apa lagi. Belasahhh!! I got myself a 10K t-shirt (the material is good though) and some Nichkhun stuffs for my youngest sister yang gedik kat JB tu. Budak tu memang membangkrapkan aku betul. Masing-masing ralit beli souvenir. Aku pulak ralit tak nak keluar duit. Kekekeke..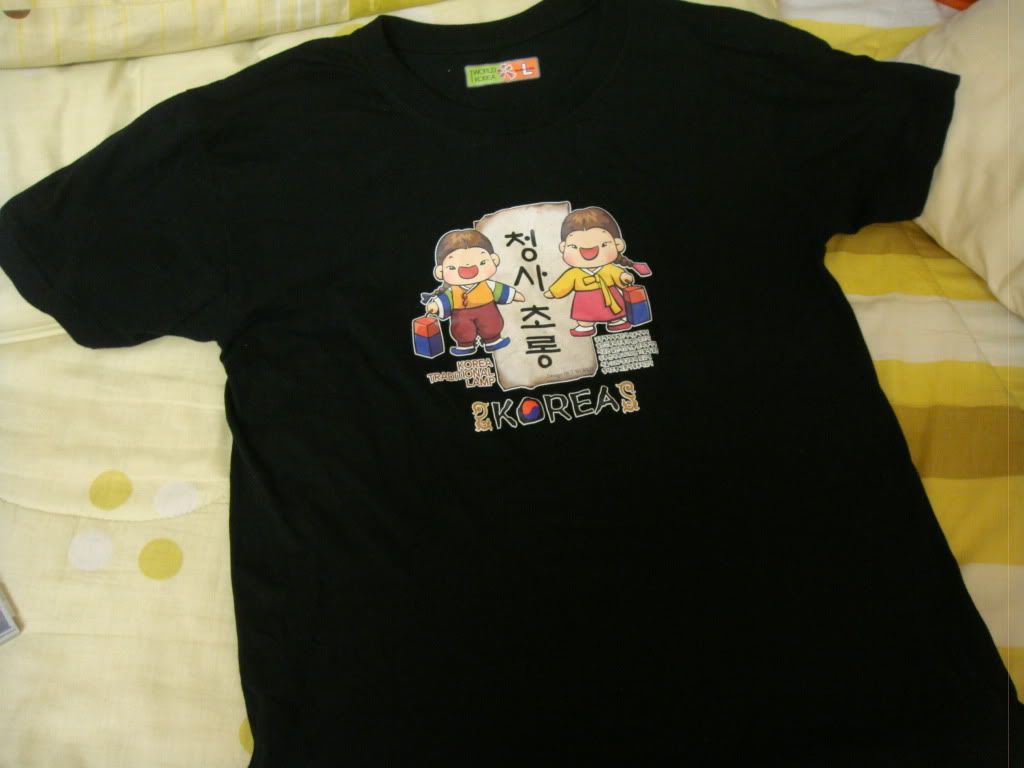 Dah macam belacan dah aku pakai..
It's already 1 am and it's time to go back home. Time tu jugak lah, handphone aku tak berhenti-henti berbunyi. Why, why, why? Bila di check, tons of SMS, Facebook and Twitter alerts masuk. All of them wishing me a Happy Birthday. Wohhhh.. Lupa pulak dah birthday aku rupanya hari ni. Kekekeke.. Yeps. Happy Birthday to me! Really-really JINJJA the happiest birthday ever. I got to see Hyukjae. Kehkehkeh..
We reached the hostel around 2.30am. Ramai yang terus membongkangkan diri. Aku pulak, baru dapat menggodek internet hostel ahjumma tu dengan jayanya. Apa lagi. Meroyan ler main internet. Sedar tak sedar it's almost 5am. Wahhhh.. Memang tak tidur lah macam ni. We need to go somewhere sekejap lagi.
Ke mana? Just wait for the next entry. ^___^