Ada karnival Asas Pembudayaan Keusahawanan kat tempat aku ni. Aku pun entah bila, tiba-tiba zam-zam alakazam je dilantik menjadi salah seorang penyelia sekumpulan pelajar ni. Kalau dah namanya keusahawanan, kenalah buat aktiviti keusahawanan kan? Jual-jual, beli-beli. Kira untung rugi dan yang sewaktu dengannya.
Jadinya kumpulan pelajar ni pun meniaga lah. Meniaga makanan. Kimbap some more. Kemain korang ye. Konpius pun ada jugak sebab dalam group ni lebih dari separuh ahlinya merupakan international students. From Myanmar and Tanzania. Err.. Orang Tanzania pun makan kimbap ke? Hurmmm..
Aku tukang bagi markah. Makanya, macam-macam lah aku tanya soalan yang merapu-rapu kat mereka ni. Motipnya kimbap? Katanya, makanan ni senang nak buat, simple, mudah nak makan. Aku cakap Maggi pun senang nak buat jugak. Curah air panas je. Hehehehe.. Then dia cakap lagi, sekarang ni orang tengah gila everything pasal Korea. Dari drama ke muzik ke tempat-tempat menarik termasuk lah makanan. Aku cakap ye ke semua orang minat. Dijawabnya "YAAAAAAAAAAAAAA~!! Kami tau Miss pun masuk dalam kategori orang-orang yang minat tu". Cisssss.. Memandai je korang ye..... Kekekeke..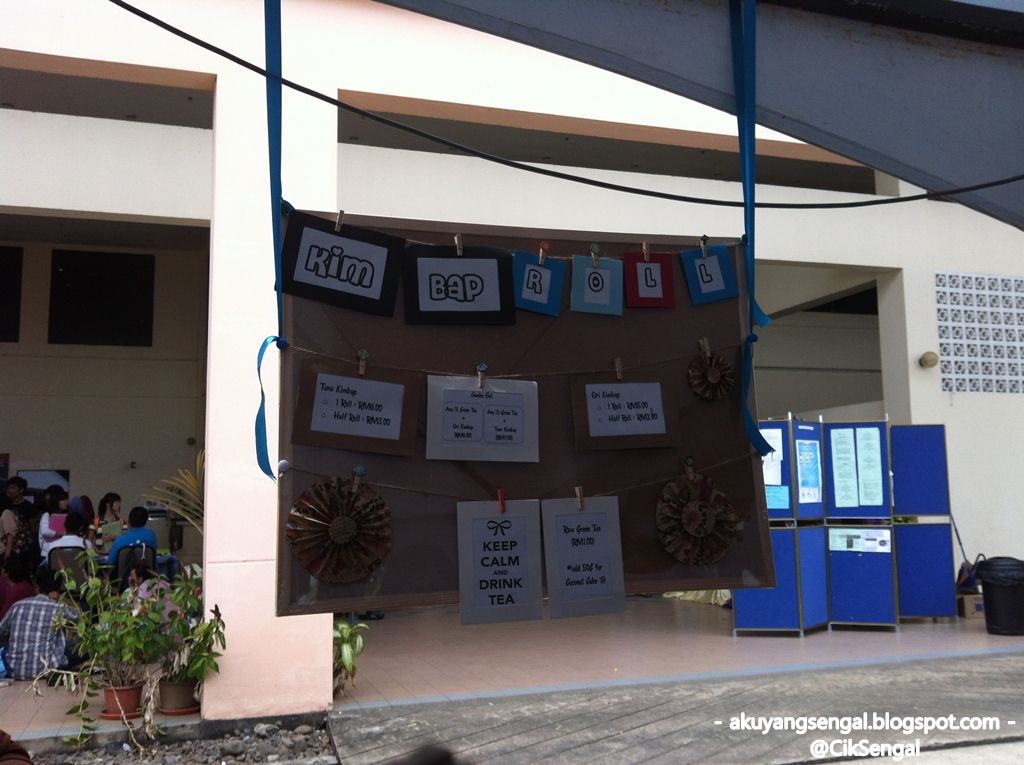 Iklan/Promotions.. Berapa markah?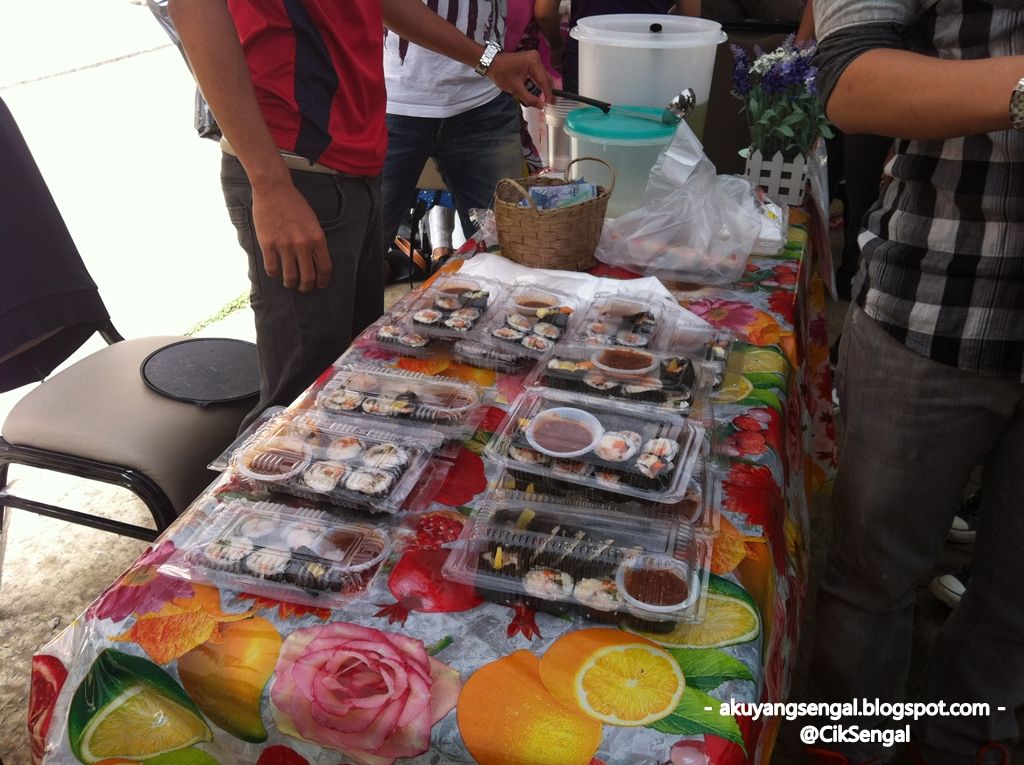 Presentation.. Berapa markah?
It's a fusion one I must say. Dia punya pencicah tu, rasa macam sambal belacan pun ada. Hahahaha.. Baguslah tu. Kimbap cicah sambal belacan. Walaupun pelik, boleh tahan jugak sedapnya. :P
The taste? Sedap.. Hehehehe..
So the markah? Pandai budak-budak ni bodek macam-macam. Hurmmm.. Mood aku agak baik. Makanan pulak antara yang aku minat. Makanya, lu pikirlah sendiri. Hehehehehe..